how i build niche site in 2018 that Brings in $500 a Month
How many times have you thought about (or even started) building a niche site with dreams of making thousands of dollars in passive income each month?, If you're like most people trying to make a living on the internet, the thought has probably crossed your mind at least once, if not thousands of times.
For me, this idea of the niche website is one of the most fascinating anomalies on the internet. It's one of the hardest, yet stupidly easy things you can do online.
The steps to building a successful niche site that pulls in at least $500 a month are extremely straight forward, yet most people come at it from an angle of trying to game the system – they've lost before they even reached the starting line.
Sure, there are people out there who make hundreds of thousands of dollars off crappy sites and products – but most of them have some serious technical, spam, and SEO skills that let's face it, we don't have.
So we've gotta come up with a better way, you know, one that actually helps people.
Niche Site Video Tutorial:
Niche Website Quick Start
This is the longest post I've written in a year. I go into detail about what to do and why to do it. Don't have time for that? Here's the 14 step, quick start, Cliff's Notes version of my strategy for building a niche site. If you have questions about something, then quit being lazy and read the rest of the article.
Step #1: Write out as many niche ideas as you can, using your interests as a starting point.
Step #2: Narrow down niche based on the following criteria:
Wide array of products you can review and discuss
Higher price, lower volume
Are there affiliate programs with good commissions?
Are people currently making money?
Could you write 100 articles on the topic?
Step #4: Start creating content. Here's a good outline to get you going:
Write 5 articles reviewing 5 of the most popular items in your niche
Write 3 in depth tutorials on your niche (How to _______)
Write 3 list posts
Repeat
Step #5: Sign up for affiliate programs relating to your new site and content
Step #6: Do keyword research to find 5-10 of the best key terms/products to try and rank for
Step #8: Create a list of friends and colleagues to email and tell about your new site
Step #9: Setup social media for the site: Facebook, Twitter, and Pinterest
Step #10: Sign up for HARO
Step #11: Make a list of all large blogs and syndicated publications you'd want to be featured on
Step #12: Start contacting previously listed blogs and websites offering guest posts or story ideas (here's how to do it)
Step #13: Create a high quality pdf or email series to collect email addresses. Add to site.
Step #14: Repeat Steps 4 and 12, while continuing to build your social media channels and links for SEO.
There you have it, 14 steps to a niche website that will make you at least $500/month. Want to actually learn how to do this? Then keep reading.
My First Niche Site
Ok in this for the long haul? Cool, grab some coffee or a beer and let's get going with this. A few years ago a friend of mine and I started a niche site called HDR Software.
For those of you who don't know HDR (High Dynamic Range) photography is a process where you take 3 versions of the exact same photograph where one is over-exposed, one is under-exposed, and one is taken at normal exposure. The software then allows you to combine these images to take one perfectly exposed image.
Here's an example: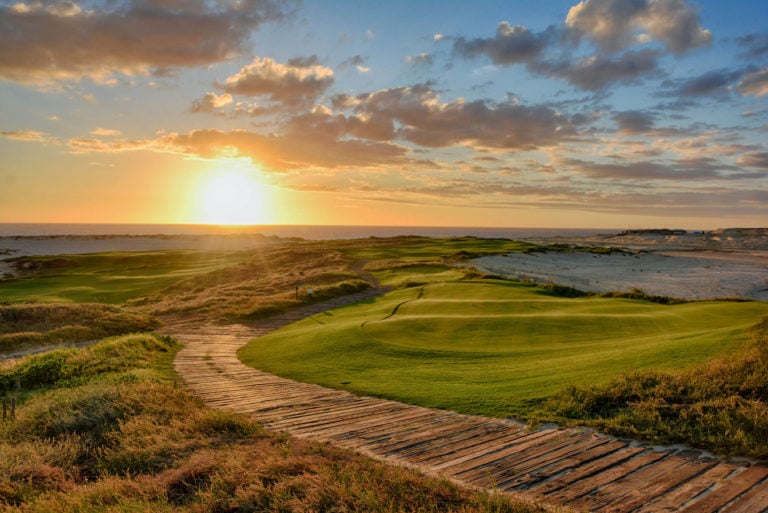 I'd already had a site based around this process, so it was a natural fit to jump into this market. For the first year we did very little paid SEO, wrote all of our own content, and really didn't spend that much time working on it.
Within 6 months the site was making over $1k a month.
At it's peak it was making closer to $3k/month. Things were great. We provided unbiased reviews of software, along with tips for HDR success, and were making good money in the process.
That's when we started making mistakes.
We hired out two different SEO companies to do some link building for us – believing them when they said it was all hand built, non-spammy links. A month into working with both of them, we couldn't believe what we were seeing when we looked at our link profiles – nothing but spam.
We canceled the accounts immediately – but the damage was done. A few months later the
Google Penguin algorithm update
happened, and our traffic dropped by about 75% overnight. The site still brings in sporadic revenue here and there, and with some attention, could certainly get back to where it was pre-penguin.
However the point of me telling you this is I know what works, and what doesn't – both through my own experience, as well as that of close friends who have seen spectacular success, catastrophic failures, and many who just saw a whole lot of nothing when it comes to niche affiliate websites.
Today, I'm going to share with you, exactly how to build a successful niche affiliate website. More importantly, we're going to do it in a way that would make your mom proud.
Crash Course: How Do You Make Money on Your Website?
Just to make sure we're all on the same page, let's talk real briefly about how we're actually going to make money through this site. There are a lot of ways to make money on the internet, a few of the ones you'll find on niche sites are:
Affiliate Links
Adsense Ads
Other Paid Advertisements
Paid Text Links
Direct product sales
What is Affiliate Marketing?
When it comes to monetizing a niche site, affiliate links are the easiest way to get started.
What's an affiliate link you may be wondering?
Glad you asked. Here's the process in the simplest terms possible:
You have a website
Someone else has a product
You get a special link to their product
A reader clicks on the link and buys the product
You get a commission
Simple as that!
However for as simple as it sounds, actually getting traffic and getting people to buy products is a much more difficult task that we'll be covering in depth in this article.
Now that we're on the same page though, lets jump into exactly how to select a niche, and more importantly how we're going to select the specific products we're going to promote.
How to Find and Test a Niche
I believe you can build a niche website around just about anything, assuming you're passionate enough about the topic. The reason most people fail is because they choose a niche like "Swedish leather furniture" when they are nomadic and have absolutely no interest in what they're writing about.
If you want to do this successfully, basically think of this new site like a blog. A blog where you have to write a LOT about one particular topic, and the content has to be really good.
If you don't have a certain level of knowledge or interest in that topic, you're going to get burnt out before you even make your first dollar. This is why niche selection is so important.
Check out this video for more specifics on finding a niche:
Why? Because everyone always says they don't have a good idea. I'm willing to bet if you get a list of 50-100 possible niches you'll be in good shape.
Need a jumpstart, here are some from my brainstorm list:
Tennis ball machines
Islay scotch
DSLR cameras
golf balls
tripods
travel credit cards
video editing software
travel backpacks
headphones
Now, with enough time, motivation, and passion, I think you could probably build a successful site out of just about any one of those niches I listed. But we don't have all the time in the world, so we want to make sure we give ourselves the best shot at success possible.
How are we going to do that? By running our list of niches through a few key filters.
Action Item: Narrow down niche based on the following criteria:
High Price, Low Volume
I'd rather make a bunch of money off one sale, than a little money off a lot of sales.
This holds more true for e-commerce/dropshipping websites – but I look at it like this: if I have a low priced product I have to get maybe 5 or 10 times as many people to actually whip out their credit cards and buy something, but if I only have to convince one person to make a good commission – it'll be easier to make money over the long term.
Could I write 100 articles about the topic?
My strategy is all about creating incredibly useful, shareable content – so if I can't see myself writing 100 unique articles over the next couple years then there's a good chance I'm not interested in it enough to invest the time and energy into the project.
Are there affiliate programs (with good commissions)?
There are affiliate programs out there that will allow you to sell just about anything.
The question is, what are the commissions like? The whole "high price, low volume" doesn't work if you still only get a 1% commission off the sale. I generally won't get into any market with less than a 10% affiliate commission unless I have a really good reason. I also shoot for at least 25-30% with everything I do.
Are there currently people making money?
This can be a tough question to answer definitively, but here's how I go about it.
Come up with 5-10 keywords that people might search for when looking for your product. Let's say it's DSLR cameras, in particular let's use the Nikon D7200 as our example. I might search for: Nikon D7200 review, Nikon D7200 sale, adorama coupon code (a site that sells the camera), Nikon D7200 vs. D610.
Is he making money off the site? Yep. He even tells us he is at the bottom of every page.
Moreover, he says the site makes him enough for him and his family to live off of. This is the perfect example of an affiliate site done well.
But, that's just one guy.
Are other people making money?
Looking through some of the pages on the search results, there are other reviews with affiliate links in them, so I've gotta imagine that because there are so many people in this market reviewing this particular product, that people are making some decent money (especially if they are reviewing a bunch of other cameras and equipment as well).
There are much more scientific and in depth ways you can research this, but if you're just starting out this can help you get a good idea.
Why I Personally Wouldn't Build Justan Amazon Affiliate Site
There are certainly people out there that make a good living off nothing but Amazon affiliate sales, and considering how easy it is to get setup – it's an excellent starting point for new affiliate sites.
For instance I could sell the photography software I promote through Amazon and usually earn around 6% – but if I do it through their own affiliate program I make 30%. Hmmmm… Use Amazon as a supplement, not a primary focus.
What to Focus on When You're Starting Out Building a Niche Blog
Ok, so you've done some research and selected a niche. From there you've found some specific products you're feeling really good about. Now what? Well you need to actually get the site up.
Don't worry about spending tons of money on a custom design or anything like that.
Yoast SEO Plugin. Search engine traffic is going to play a big role in the success of your site. This is the best SEO plugin out there, and makes it extremely easy to see if your pages are optimized – even if you have no experience with SEO.
Sumo – I'm increasingly convinced in the importance of an email list for all websites and blogs. When it comes to growing your list, there is NO better product for the price than Sumo marketing tools. Oh, and they have a free version too.
Google XML Sitemap – You want to make it as easy as possible for the search engine spiders to find and categorize your site.
How to Create a Content Plan that Works for Your Niche Site
When you're trying to drive traffic to a niche blog you can do so in two ways:
We're going to be doing it the legit way, which in turn makes the content on your site a thousand times more important. We're not just writing any content either, we're being very deliberate as it has a couple specific goals we want to accomplish:
Some examples:
best things to do in [insert city]
You get the idea. They are generally high traffic terms, that indicate buying intention, and are generally pretty easy to write.
You can modify this even more by adding the current year.
best travel gifts for 2017
best business books 2017
Etc.
People want what's current and with billions of outdated webpages in the world, you can score some major wins by optimizing for the current year (and updating old posts each year).
How to Drive Traffic to a Niche Site
Bottom line, if no one comes to your site, you're not gonna make any money (with the exception of the little tip above about coupon codes).
With the content strategies I've outlined, you'll position yourself well, but in the beginning simply writing good content isn't going to cut it.
Use the following strategies to help spread the word quickly and help you gain traction.
With a Little Help from Your Friends
Have any friends that do stuff on the internet? Great, give them a call or send them an email to let them know about your new project. You don't want to be the dude (or dudette) that's constantly inundating all your friends with pitches and favors, but don't be afraid to let them know what you're up to.
Often they'll be able to do something small like give you a link on their site, or mention it via Facebook or Twitter. When you're getting going anything helps, and it's usually the people you're already close to that will have the biggest impact towards getting on the right track.
List Out the Big Sites that Might Be Interested
Make a list of all of the big web sites or blogs directly related to your niche and send the editors an email telling them about your latest post or story ideas.
Landing just one publication like this can be a total game changer for a small site.
HARO
Help a Reporter Out makes it even easier to find opportunities for press. You sign up for the topics you're interested in and receive an email or two a day from reporters looking for stories.
Social Media
The better you are at this, the more interested they will become when you're sending them back to your site to see your latest post.
I've personally found Facebook to be the best for traffic. It's easier to be seen and the ability to add a photo and longer caption to a post can be just enough to get people to click through more than say Twitter.
Email List
Once you've done all the basics, you can hop into "niche site 201", and come up with an email gift for people. Maybe it's a 4 part email series educating users on your niche, or perhaps it's a full on pdf ebook that teaches them something useful.
Like I said, traffic on our HDR site dropped nearly 75% overnight. Since we'd been building an email list though, we still had a way to connect with our readers.
If you setup the list to send emails for every new post, you'll also drive more traffic back to the site in the process.
Action Item: Do all the things listed above:
Make a list of friends to contact about your new site – contact them.
Make a list of larger blogs and publications you want to be featured in – contact as you begin creating content
Sign up for HARO
Register social media accounts and star posting
Begin formulating ideas for your email list
A Quick Primer on SEO
So we talked all about how to build content that gets shared, leading to backlinks from others, which improves SEO, and ultimately makes you money.
In a perfect world, that's all you need to do.
It isn't always that simple however, and sometimes you just need a jump start.
This is one of the highest trafficked posts on this blog. It's a full overview on SEO and is worth reviewing as you're getting your site up and running.